Something old, something new, something borrowed…  Wait this is a Christmas list not a wedding.  But along the same lines, here's my little Christmas wishlist.  It has a pretty wide variety of instruments that would be cool to own.
I could have course come up with a top 20 or even a top 50, but let's not be too greedy.
Here's my top ten for this year…
---
#10 Wes Lambe 8M/8S

Wes Lambe builds a number of instrument just off the beaten track.  One of the ones I like the best is his 8M or 8S series instruments.  I haven't had the opportunity to try one but would love see one under the tree this year.
This series features the licensed Novax fan fret system.  The string configuration of eight strings is generally setup as three bass and five guitars strings.  Usually the low strings have large bass tuners and the high strings have standard guitar tuners.  On some models the electronics are configured with a set of pickups for each string group while other models have a pickups that cover all eight strings.  The model shown has former, but I think I prefer the former.   –more on Wes Lambe– Wes Lambe custom finishes are done by Rowyco Kustoms.  I'll have my 8M in Tiger Eye please Santa.
#9 Sadowsky RV4-WL  Candy Apple Red

This past year my local music store  Long & McQuade in Vancouver has started selling Sadowsky basses.  L&M's Terminal Street location appears to be the only store that stock them.  Jean in the store's bass department is a great salesman and knows me quite well.  Several times he's passed me down a Sadowsky bass and will say something like, "Try this bass.  It's killer!".  Oh so tempting, but a bit out my price range.
Comparing these to a Fender Jazz, they look similar, but everyone that I've played just has a tighter fuller sound than the Fenders.  These look like just another Jazz bass copy, but they are outstanding bass.  I like the red with a rosewood neck.
#8 Fender American Standard Jazz Bass – Candy Cola

So this is all a little weird for me.  Suddenly I'm a Fender fan.  The previous Sadowsky bass in many ways is a copy of this this bass.  I like the Sadowsky, but there's also just something special about having a real Fender bass.  It's just that classic sound.  Previous I'd talked about my new Jazz V which I just love.  My choice to buy that bass was because of it's overall versatility.  This bass however, is a pure rocker and although it's a new model is very much like the traditional jazz bass that's been in production for 50 years.
#7 Guild B-302F

Back in the 70's there were Fenders and Gibsons and a few other companies that built the majority of original instrument designs.  There were also dozens of companies that built copies of the big companies designs.  Guild was guilty of that and made basses that copied others like Gibson.  In 1977 they came out with the B series basses.  These basses had a distinctive look and included a fretless model.  The B-302F is the fretless twin pickup model.  Just one cool and unusual vintage bass that'd be a cool addition to the collection.  Huh Santa?!
#6 Epiphone Casino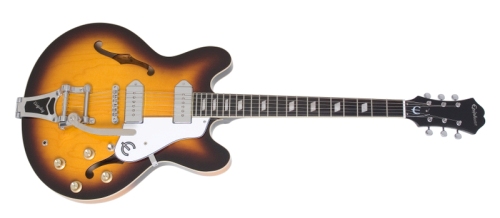 The Epiphone Casino is the only guitar on my Christmas list.  I've always wanted one, but still don't have one.  My only real reason for wanting one is that a great number of the great guitar sounds that came out of the Beatles albums where created on a Casino.  All three Beatles had them and John Lennon played one almost exclusively from 1965 on.  Everything from Revolution to Yer Blues to Taxman owed their guitar sounds to these Epi's.  Santa, I'm not too picky about the colour, but I like the tobacco sunburst.  The Bigsby is cool too.
#5 NS NXT 4-String EUB

I've always wanted to play an upright bass (aka double bass), but next to a grand piano it has to be the bulkiest thing around.  The alternative is an EUB (Electric Upright Bass) NS has been making EUB's in Czechoslovakia for many years and is probably the best known builder of EUB's.  The NXT model is about half the price of NS's premium models but still a great bass.  I love the amber coloured 4-string model.  The tripod is a great feature that allows you to leave them standing by themselves when not in use.  (Wish my Stick had one of those.)  Hey Santa, L&M has some of these in stock.  They're only about $1200 CDN!
#4 Benavente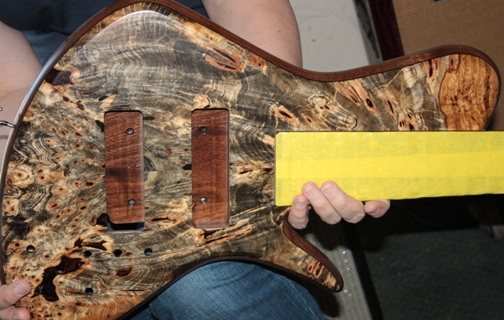 This past summer I had the privilege of meeting Chris Benavente at his shop in Oregon.  This unfinished bass is one of his SCB models.  The pictures can never do justice to the beauty of the wood grain.  This bass's top is buckeye burl.  Chris' woodworking is awesome and he ships his products all over the world.  (See other 101 Basses articles)
For Christmas I'd love to have one of these basses in a fretted 5-string.
#3 Jerzy Drozd Bacelona

Jerzy Drozd basses are really at the top of the list for beautiful boutique basses.  His combination of fine woodworking and unique artistic design make these highly desirable basses.  He has a number of nice designs, but the Barcelona is my favorite.  It's it a work of art don't you think?!
#2 Rickenbacker 4001s v63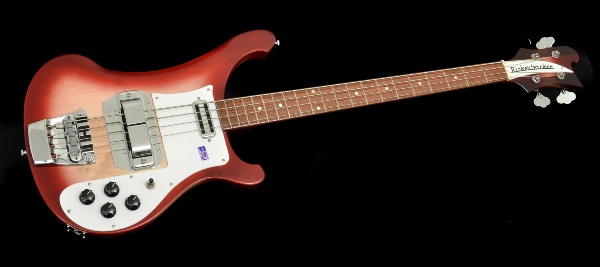 The Rickenbacker 4001 is the bass I've always wanted since I was kid, but have never owned one.  Two of my bass idols growing up played one.  One was Paul McCartney the other was Chris Squire.  Chris Squire of Yes was the single biggest influence on my bass playing growing up.  What I didn't know was that neither played a 4001.  McCartney had 4001s and Squire had an RM1999.  Both are in essence 4001's so I was close.
The 4001s is the one on my Christmas list.  This one, the v63, is a reissue of the 1963 version.  It is distinctive in that is has dot markers instead of the typical Ric shark tooth markers, no biddings and the original horseshoe bridge pickup.  From my experience 4001's and the newer 4003's often have chunkier necks.  The "s' models to me are more true to original Ric's slim fast neck.
Santa, I found the perfect one for sale here for only $2350 UDS.  If not this Christmas, there is a 4001s somewhere in my future.
#1 Atlansia Victoria
The Atlansia Victoria 5-string fretless is, to me, the holy grail of basses.  To me this could become my iconic Girl-on-Bass bass.  You know like Squire's RM1999 or McCartney's 500/1 Beatle Bass.
Atlansia is little know company from Japan.  I've had a few emails with it's president Nobuaki Hayashi.  He is a very kind and polite man, but in his own words, he is getting older and may not be continuing to build instruments for too much longer.  He was quite willing to build a Victoria for me, but even after a generous discount, I just didn't have the money.
Hayashi's designs are off the beaten track and technologically advanced in a number of ways.  On unique feature is the round double coil pickups.  Because are round, they can be turned to alter the magnetic pattern around the string.  I would to hear what this does to the sound.
I suspect that I may never own or even get a chance to play an Atlansia, but the Victoria and several other of their designs are very high on my most coveted list.
---
To my friends and family that are reading this, please don't take it all too seriously.  It's just a bit of fun.  Like if you had three wishes or won the lottery or something.
I really am blessed and this is the time of year to reflect on that all.  I'm blessed in that I've been able to spend so much of my time working on the things that I love to do.  I'm blessed and even quite spoiled in all of the instruments that I already have.  I'm also blessed with my family that is like my best friends and close friends that are like family.
This past year I've gotten to know so many great people in the music industry.  Many via the Internet, but also a few in person.  This has been such a blast.
Let's do a whole lot more of the same next year.
Terri