A few months ago, at an open mic, I met a woman named Lucie Walker. She was an old friend of my friend John Texas Haynes. John introduced her as a fabulous vocalist. What an understatement.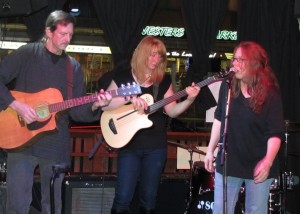 Since we first met, I've had a number of occasions to back up Lucie on bass in jams and on stage at a number of open mics. She has an incredible voice and the best feel for a song you can imagine.
One afternoon a few weeks ago I showed up at John's with my Tascam Portastudio. By the end of the evening we'd recorded a few pretty good quality demos.
Included here is Give It Up or Let It Go, by the Dixies Chicks. I'm on bass, John plays guitar and drums. And, that soulful voice is that of Lucie Walker… [Listen]

Terri