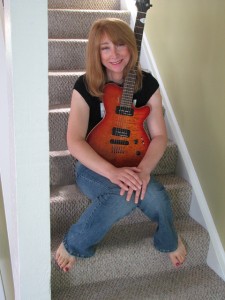 A few years ago I found myself wanting to record some demos.  Mainly I wanted to do this so that I could build a website and post some demos of myself playing bass.  This was before I'd heard of myspace.  So in my usual fashion I started from scratch and built what was to become my Girl-On-Bass website.
Once I started recording it wasn't long before I had the need to add some guitar tracks.  I've never been much of the guitar soloing type, but I did play rhythm guitar for a number of years and was pretty comfortable playing acoustic as well. But after all these years I didn't own even one electric guitar.
At first I figured I'd pickup a Mexican Telecaster, but then I came across this Godin LG-P90 in Cherry Burst Flame.  I played it in the store for a while and really liked it.  But somehow my will power took hold and I put it back up on the wall and sadly waved goodbye, with a tear in my eye, as I left the store.
Of course that's not the end of the story.  Remember I am a certified bass-aholic, and have a strong case of GAS, so it wasn't long before I was back at my favorite music store.  And the store, being what it is, (they have a great in-store financing program), with a few dollars down and a bit of paperwork I was leaving the store clutching a Godin gigbag loaded up with my new Godin 6-string.
For quite a while I used this guitar for background tracks on my Portastudio, but I hadn't figured out that the Portastudio had built in guitar effects.  So lots of my demos had a completely dry guitar sound to them.  It wasn't until later that I bought a nice little guitar amp modeler that I really started to have fun with this guitar.
Later on I found myself in need of a better bass amp.  I had a small Ampeg combo, that just didn't do the job and wanted to get something larger.  So to help with the purchase of my SVT I traded in the LG-P90.  Getting the SVT was great, but trading in the Godin was sad.  There I was waving goodbye to it again.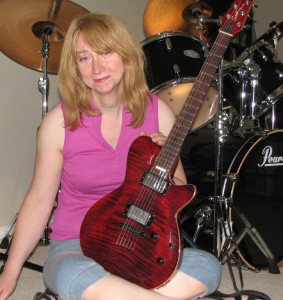 Several months later I found myself at the big Long & McQuade on Terminal Avenue in Vancouver.  I'd gone there to look for an inexpensive flute for my son.  But when we got there we found they were having a sidewalk sale in the parking lot.  Talk about a dirty trick.  This would be like an alcoholic going to the store for milk and finding them handing out free beer at the door.
There were lots of guitars and amps and lots of other stuff.  In amongst it all was a used Godin LG.
This one was a nicer model than my previous one with a carved AA flamed maple top.  The LG-P90 had different pickups, Seymour Duncan P90's and this one had Seymour Duncan humbuckers.  All in all this guitar actually lists for about $1200.00 new, where the other one was about $700.00, but the used price for this one was about $800.00.  Needless to say it went home with me.  Me grinning all the way!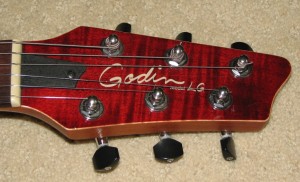 Overall I like this guitar very much.  For me as a non-guitar player it really is all the guitar I need.  I've used it for a lot of demos since I've had it, and after a year or two I've actually got a bit of confidence soloing on it.  You can hear a bit of this on a blues jam on Girl-On-Bass.  Okay not great guitar playing.  But working on improvisation on the guitar has helped my bass playing as well.
A couple of other things about the LG.  For me it plays much like a Les Paul.  It's even a bit "butt heavy" like a Les Paul.  One thing about all of my Godin guitars, (including my S&P) is that if I tune it without a tuner and play an open position D major chord it always sounds a bit out of tune.  My theory is that Godin frets are a bit larger and if you press down hard just behind the frets you can bend the note slightly.  And for me this makes it sound out of tune.
But overall I love Godin's guitars.  Maybe there's a 5th Avenue in my future?
Terri