In order to talk about this D&D ukulele I first have to talk about my previous, Kala, ukulele. I bought the Kala prior to going to Maui and brought it along as carry on for the trip. While staying in Maui it was a hit with my band mates. In particular our singer, Feona, took a shining to it and immediately starting writing new material on it. I'm not sure what it was but I could really see that she loved it, so the only thing that made sense was to give it her. She was totally surprised and it really warmed my heart to see how happy it made her. It was one of those moments where it really was better to give.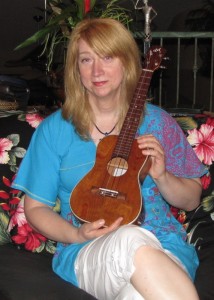 A few days later we were out shopping in Lahaina and came across a tiny store that sold nothing but ukuleles.  They sold a number of brand, including Kala and also sold their own house brand, D&D.
I spent quite a bit of time looking around and found a koa tenor uke with a high gloss finish and built-in electronics.  The only thing it didn't have was a high G.  Instead it had a G similar to a guitar.  I quite liked it, but thought I'd better sleep on it.
A few days later of course I went back and picked it up.  The shop owner replace the low G with a high G at no charge.
Comparing it to the Kala, I think in some ways that Kala is a nicer instrument.  But this one differs in that it has more handmade, less mass produced feel about.  The neck is a bit chunkier and the fretboard is wider.  The body finish is high gloss and it really brings out the grain of the wood.  It's really very beautiful.
On the down side, the intonation is not perfect.  The Kala is spot on.  Maybe another sign of a not so perfect handcrafted instrument?
The instrument came with the same type of canvas hard shell case as the Kala.  This protects the instrument well from the outside world.  The case, however, does not fit the instrument well.  So keeping a towel in the case is required to prevent it from rattling around in there.
Overall, I'm a fan.  I like this instrument and am having a blast playing uke.
You can find out more about D&D Ukulele on their blog.
One final note.  Us Canadian pronounce ukulele as "You-que-lay-lee" but the Hawaiians say "Ook-oo-lay-lee".  So let's get this right eh!?
Terri
PS I'll publish more pix when I'm back in town next week.