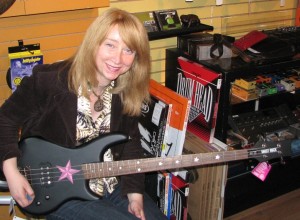 Over the years I've known many female musicians and many of them played very well.  Lots of women that learn to play guitar, and especially bass, start with an immediate disadvantage.  They try to play instruments that were made to fit male hands.  String spacing, neck thickness, string gauge, body weight and scale length are all designed to fit the hands of the men that build and design guitars.  Since most woman's hands are smaller it makes learning that much more difficult.
In the year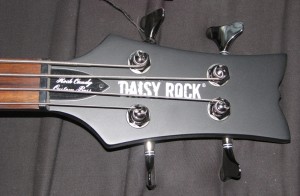 2000,  female bassist Tish Ciravolo, inspired by her young daughter, came up with the idea for Daisy Rock.  It didn't hurt that her  husband Michael Ciravolo was the president of Schecter Guitar Research.
Initially Daisy Rock was a subsidiary of Schecter but by 2003 Daisy left Schecter and partnered with Alfred Music Publishing.  From 2002 to 2005 Daisy sales went from $400,000 to $2.5 million.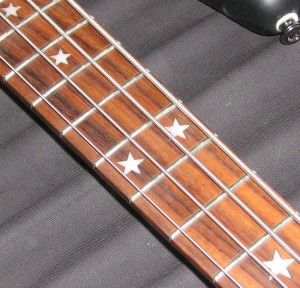 This bass is a Rock Candy Custom Bass.  Daisy has two lines and this one is part of their professional line.  The Musicians friend retail of $299.00 would seem to contradict that claim, but it does come with lots of big girl features such as Grover machine heads and [Seymour?] Duncan designed humbuckers.  The 34″ scale would seem to indicate this bass was for grownups.
The bass pictured here, (courtesy of Deep Cove Music),  played very nicely.  By comparison to my P-Bass and Warwick bass it definitely had a smaller feel to it.  But that after all was the whole idea.
Thanks Daisy Rock for helping girls rock too!
See more about Daisy Rock Bass Guitars on Bass-Aholic
Terri
Tell me what you think of Daisy Rock.  Please leave a comment!