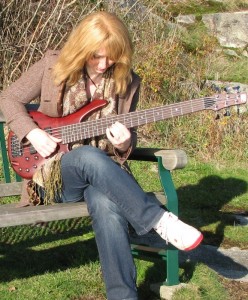 This bass is really cool.  It's one of those basses you see on the wall in a music store and you go "Yeah that looks okay."  I probably saw this one hanging there for some time before I decided to try it.
Once I did I was pretty blown away.  This bass has the widest neck I've ever played, while at the same time it's probably the thinnest.
The thin neck combined with very low action makes this bass very playable and fast.  My only concern was that with my heavy picking style I  get a fair amount of buzz out of it.
The bass is equipped with two Bartolini MK-1 pickups and has active electronics.  The control layout is so straight forward and the battery is easy to get access to.

One other thing I like is that tailpiece allows you to remove the strings without threading through a hole.  This makes for faster changes and less chance of scratching up the finish.
So back to me.  I decided to rent the bass for a while.  I had it for a few months and decided I couldn't afford it.  So it went back.  I'm really quite sad about this and replacement is high on my wishlist.  🙁
If I was to buy it, my only suggestion would be having it professionally setup to cleanup the buzz.
Other than that, its a fine bass.  I can't wait to get my hands on another.
Click to listen to a sound sample of the SR506.  The whacked out rhythm guitar part is the 6-string.   Also on this track is  my Warwick and Godin LG.
Terri