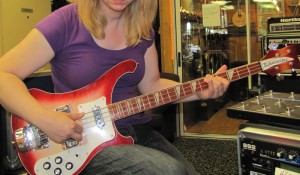 Here's another one of those classic Ric's.  This one is a 4003 from 2003 and is/was for sale at Cowtown Guitars in Las Vegas.
This one in Fireglo, with is probably the number one finish for 4001's.  The bridge pickup cover has been removed, which is pretty normal.  As you can see from the second picture, this is where your right automatically wants to sit.  When the cover is present really is in the way.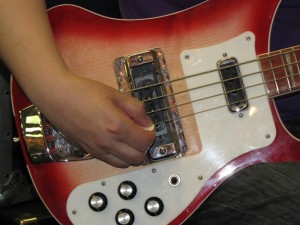 There's not a lot to add about this.  It plays great and has that classic Ric sound.  I would have loved to have taken this one home with me, but there was one other Ric in the store that stole my heart.  You'll have to stay tuned to get the scoop on that one.
This one did have an odd crack in the finish along the back.  It was along one of the glue joints, but didn't appear to be a problem and certainly didn't affect the sound or playability.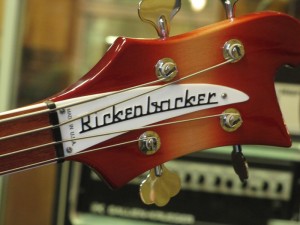 Other than that, this one nice bass.
Oh I'd love to have a Ric in my collection.  Maybe one day.
Terri