A few years ago my daughter was bugging me to buy her a bass.  She was about twelve at the time.  For whatever reason, I had sort of been putting it off.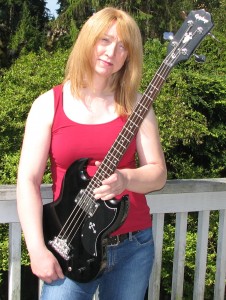 One day I was driving her back from school and we were about to pass my favorite music store.  I suggested that we stop and look for a bass for her and her eyes lit up.  When we walked into the bass department she went straight to a black Epiphone EB-0.  I suggested she pick it up and play it but she had never played before so wasn't quite sure what to do.
After a minute or so I suggested that I check it out for her.  I tuned it up and started to play and she said something like, "you can play".  I think it was this sudden strange realization for her that her parent could do something cool.  That day I went up a few notches on the cool scale in her eyes.
We decided to buy the bass.  I noticed it had the store's orange "used" tag.  But the price didn't reflect that, so I asked the salesman about it.  After a few minutes he came back and we  got the price down from $250.00 to $150.00.  So that was good.
When we got the bass home she wanted a bass lesson.  Completely unprepared I tried to show her a few things, but we could both see that I had no clue where to start.  The comment I would later hear was, "You can play, but as a teacher you suck!".
Since I completely failed as a teacher, she started taking lessons at a local music store.  I guess I still had a smidgen of credibility because at her first bass lesson she made me sit in, to make sure the instructor knew what he was talking about.  In that half hour lesson, I learned something about teaching bass.
Epiphone has a long history, dating back to 1873.  Today we think of them as a lower priced instrument, but at one time they were big competition for Gibson.  In 1957 Gibson bought Epiphone and for many years Gibsons and Epiphones were built side by side in the same Kalamazoo Michigan plant.
Today a lot of Epiphones are built in China.  This one was built in the Sae Jung Plant in China in April 2005.
Epiphone builds a lot of great instruments, but this one is an entry level bass.  It is not a great bass, but definitely playable and because of its short 30″ scale it's great for those with smaller hands.
This bass now belongs to the household so when the kids and their friends  get an urge to play they can use it, thus allowing me to keep the more expensive instruments out of harms way.
Terri