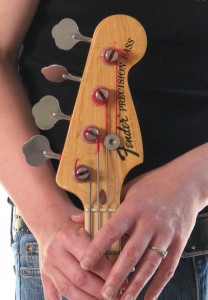 My "Number One" blog bass post just happens to be the second one I've ever owned.  My 1975 Fender Precision Bass Guitar
Before I officially started playing bass I would often play basses that belonged to friends.  When I officially decided to be a bassist my first job was to buy a bass.  At the local music store I found an inexpensive bass that was a copy of a Gibson EB-0.  It was not a very good bass, but I played it constantly.
A few years later I had gotten to the point where I really needed a good bass.  I had a little bit of money and I had a 12-string acoustic that my parents had bought for me.  So I sold the 12-string to a friend and used the proceeds as a down payment.
I was always a Rickenbacker fan.  I was also a big fan of Chris Squire from Yes and I loved the sound of his bass.  To me the Rickenbacker was the sweetest bass you could buy.  So I went to downtown Vancouver to the original Long & McQuade store on Granville Street in search of a bass.   A friend had told me that there was a used Rickenbacker there for $350.00 a few weeks earlier.  I really wanted that bass.
But when I got there I found a used Fender Precision for the same price.  In those days new Fenders and new Rickenbackers all went for about $750.00.  This was a fortune for me.
The Fender was sunburst with a maple neck and tortoise shell pick guard and the price included the Fender hard shell case.   Even though the bass was used it looked brand new.  The story I got from the clerk was that it had been purchased in Calgary, then returned less than a month later to the Vancouver store.   I really wasn't that excited about the purchase, but it was the sensible thing to do.  This was a professional bass and one that I could take anywhere.
I used my cash as a down payment and put the rest on account to pay over the next twelve months.  Somehow, even without a job, I paid it off over the next year.
The store clerk had told me that since the serial number started with a "6" that the bass had been manufactured in 1976.  That seemed reasonable.  It was April of 1976.  Years later I found a Fender serial number chart and found that it is really a 1975 model.
Thirty five years later I still have this bass and recently it's been restrung and is seeing a lot more use.
I don't think I could ever part with it now.
All this said about my Precision, what about the Precision in general?
The Fender Precision was first built in 1951 by Leo Fender.  It was one of the first electric basses made and was quite revolutionary in its day.  Prior to its introduction bass players carried around large acoustic "double" basses.  (Also known as a bass violin.)  Double basses were large and bulky, they weren't very loud and, since they didn't have frets, were more difficult to play in tune.  The name "precision" came from the fact the bass had frets, thus allowing bassists to more easily play in tune.  The shorter scale of the bass (34 inches instead of  42 inches) means the spacing between notes is smaller making it easier to play.  The precision also had an electric pick-up allowing it to be amplified.  Fender also makes amplifiers.  This allowed bass players to compete with drummers and the newly emerging electric guitars.
The Fender Precision underwent a complete redesign in 1957.  The original Precision was modeled after the Fender Telecaster.  The newer Precision was modeled after the Fender Stratocaster.  In 1968 Fender started selling the original Precision style, calling it the Telecaster Bass.
The Precision is easily the most popular bass ever produced and is still very popular today.
Click for more information about Fender.  Or, click here for more info on my bass.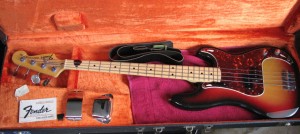 Terri
Pricing: VGPG $2300.00 USD