The Puzzle Bass – Jazz Bass from Art Liestman
One of things that I love about bass is the never ending creativity that goes into it. You might think that just means music, but it can also mean never ending technical and artistic development.
So what do you do if you are an bassist, a woodworker and an artist.  You build a bass of course. And that just what Art Liestman did.
By day Art was a university professor (now retired), but his passion is to build stuff.  As his t-shirts says, "I just make stuff".  More accurately perhaps, Art is wood sculptor.  But beyond art, Art also makes functional pieces such as teapots.
About The Puzzle Bass
Art explains, "The body and neck are from Warmoth. The body is alder with a quilted maple top. The neck is maple with an ebony fretboard (lined, fretless) and a veneer of the same quilted maple on the headstock.
Purchased unfinished and did the artwork on top. The lines are done with pyrography.  This is essentially a hot scalpel  which is a more sophisticated version of a woodburning tool. So, the lines are cut and burned into the surface. The "missing" piece is carved out, leaving about a 1/8″ depression which is painted dark brown.
Cameron Hood helped me create the graphic for my signature in the Fender style font for the headstock. The finished bass was sprayed with water-based lacquer.
The bass has Lollar magnetic pickups, a Graph Tech ghost equipped Hipshot A bridge (piezo pickups in the bridge), Hipshot Ultralite tuners. The wiring is the standard J-Bass wiring for the magnetic pickups (and first three knobs), plus the piezos which go along with the magnetic output into a preamp board. The board is powered by a battery. The fourth knob is a push/pull pot – pushed you get control over the raw piezo sound with is quite dark in tone – pull up on the switch and you get the same but with a mid boost. The silver switch can select between magnetic signal only, piezo signal only, or a blend of the two. "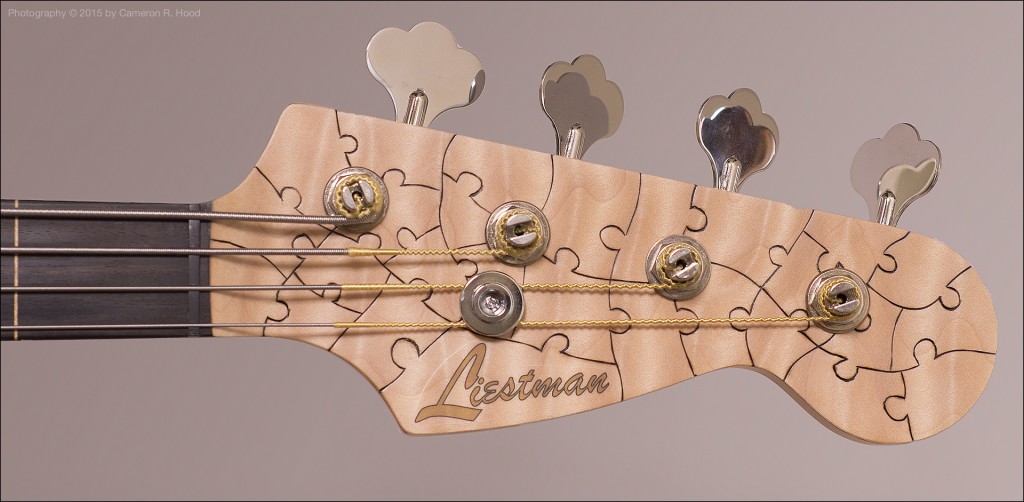 Contact Art
Visit Art's webpage for more about his work
Photography: Cameron Hood