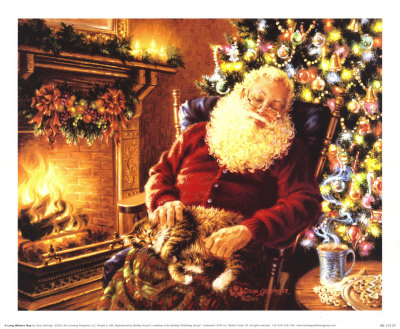 "Santa baby, just slip an Epi under the tree, for me
Been an awful good girl
Santa baby, so hurry down the chimney tonight
Santa baby, a '54 Precision too, light blue
I'll wait up for you dear Santa baby, so hurry down the chimney tonight
Think of all the fun I've missed
Think of all the fellas that I haven't kissed
Next year I could be just as good
If you'd check off my Christmas list…"
I'm already a spoiled brat, but I thought it might be fun to make a list of what I might be dreaming about as I fall asleep on Christmas eve.
Here is my Top Ten Christmas Bass (and other instruments) List…
10 – Epiphone Casino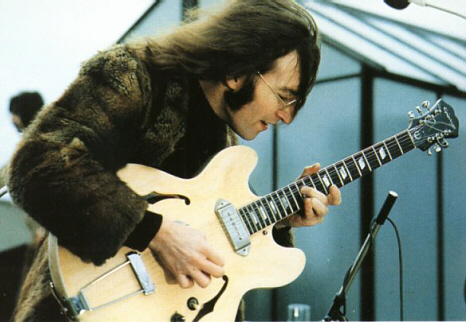 The Epiphone Casino is one those classic guitars.  Similar in style to the infamous Gibson ES-335 which is semi-acoustic, the Casino is hollow bodied.  This means less sustain than the ES-335 and the Casino's sibling the Riviera.
All three Beatles guitarist bought Casino's but Lennon's became almost as iconic as his two Rickenbacker 325's.
I just love the style of this guitar and of course this is the guitar that was used on almost everything from Paperback Writer to Yer Blues to I Want You.
I don't play guitar that much and when I do I use my Godin LG solid body.  But this one is classic and with the hollow body and P-90 pickups has a very different sound.  Oh, Santa Baby!
9 – Lace Helix 5-string Fretless Neckthrough

The Lace Helix is one of those instruments that I've never seen in person, but a number of things about it have caught my interest.  This to the point where I've had it in my Guitar Center shopping basket a few times and had my finger in the Checkout button.
What I like about it is:  The multi-laminate neckthrough construction.  The fact that is it a 5-string fretless is cool.  I don't like the G string tuner on the bottom of the headstock.  But I do like its unique styling.  Nothing else looks like a Helix.  The other cool thing is the Lace pickup design.  Lace is better known as a manufacturer of high quality pickups.  I also like the price.  It's about $800.00 USD and that includes a gig-bag.  Hurray down the chimney tonight!
8 – Schecter C1 Classic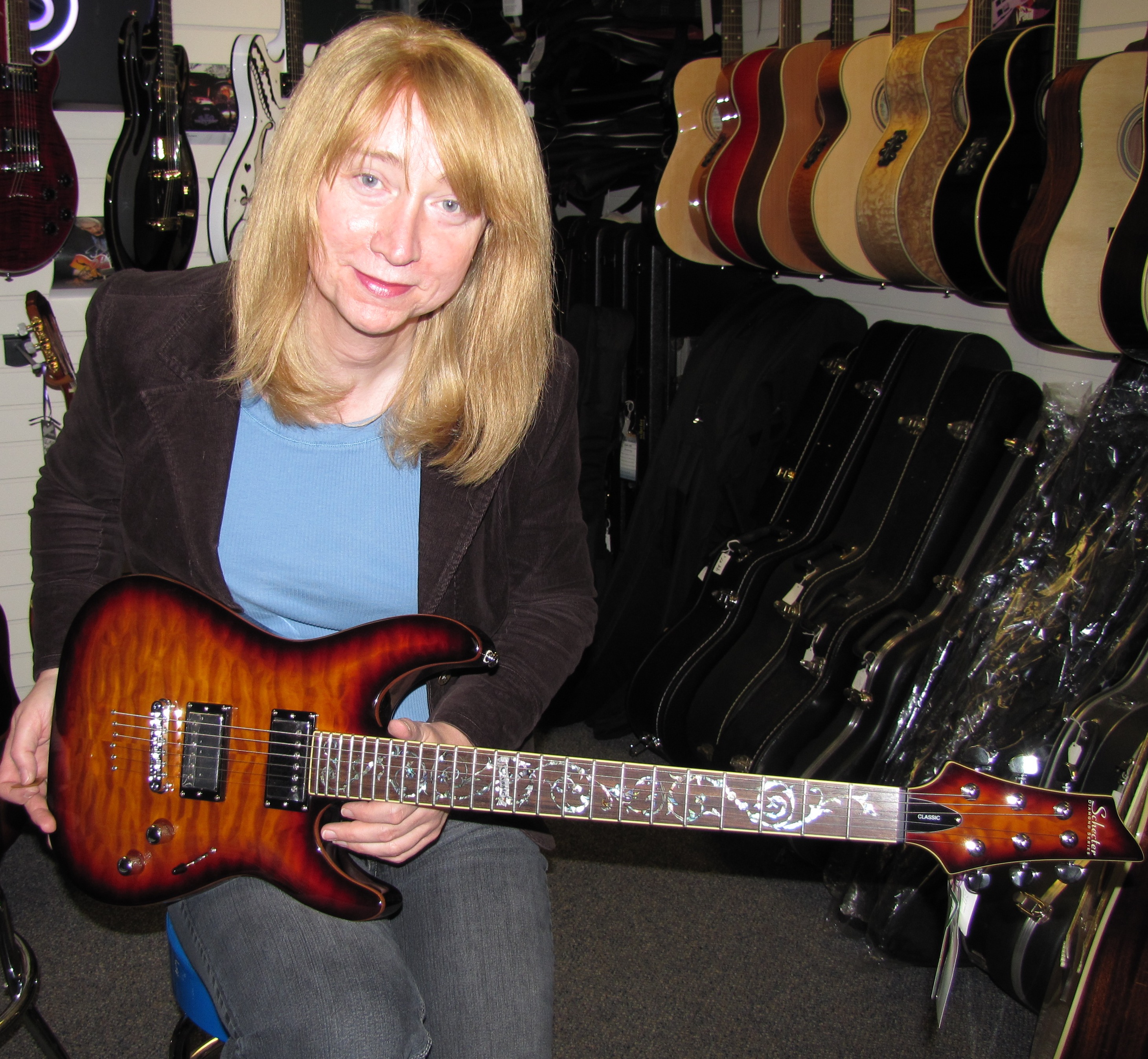 A while back I reviewed this guitar at Westcoast Music.  Over the past year I've become a big Schecter fan.  I've reviewed a number of them on 101 Basses.  I like a lot of things about Schecter.  One thing is that that they have a good range of instruments and reasonable prices.  Often taking one basic design and creating a entire range from it.  This C1 Classic is here on my list simply because of it's shear beauty.  This one is a limited edition and there are two them on the shelf at Westcoast music.  They are about $800.00.  Listening Santa Baby???
7 – Gibson Thunderbird IV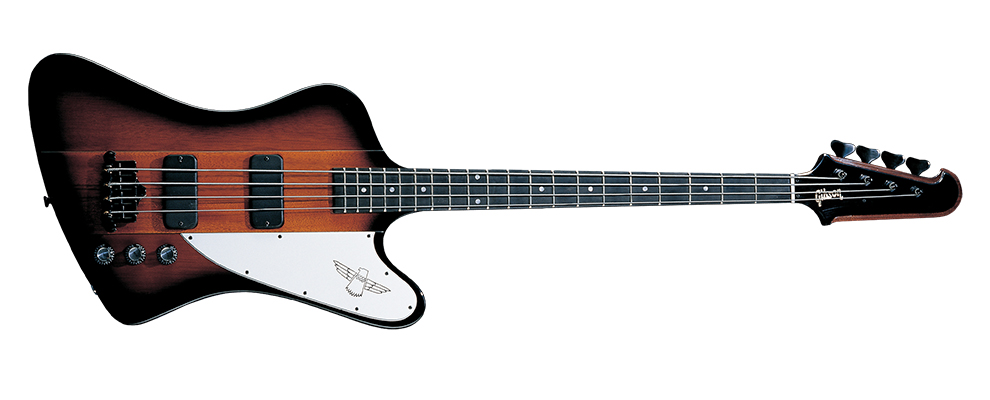 I know, I know.  I've been bitching and complain about Gibson basses.  Mostly its because of their lack of originality about the darn things and their lack of full scale basses.  But I do actually like this one.  I've played a number of the Epiphone versions of this and I like the big and long chunky feel they have.  This is a rockers bass and, well, I'm a rocker chick.  The Gibson version goes for about $1300.00.
Thing of all the fun I've missed and the fellas I haven't kissed!
6 – Hofner 500/2 Club Bass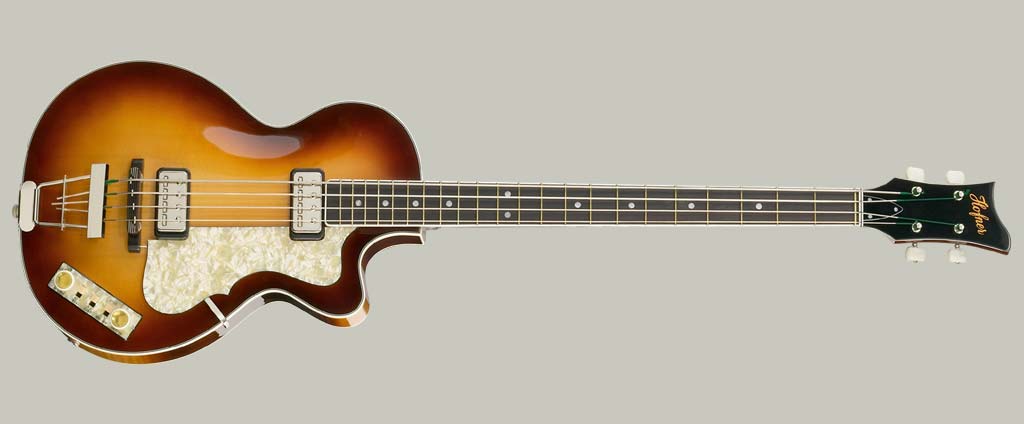 The Hofner 500/1 is one of the most iconic basses on the planet.  It was the one Paul McCartney played through the height of Beatlemania.  But for me the 500/2, also known as the Hofner Club bass, is much more desirable.  I love the styling and for me it exudes that 1960's look.  They go for about $2000.00.  Would love to have one Santa!
5 – Fender Fretless Jazz Bass

I've often been critical of Fender for it's old fashioned, and a bit tired, styling.  But let's face it, these are the best known and most loved basses of all time.  You may wonder if Fender is big because they were first, but Fender had lots of competition early on.  These basses have stood the test of time and are still played by every player and copied by countless luthiers.  Many of those early competitors are long gone and just blips in the history of bass.
I really like the jazz  bass.  I had a Mexican Fretless for a while.  I think I was a bit hung up on its "Non-American" status.  I was also not so excited about the black paint and white pick-guard.  So I think if I got another it would look like this one.  American, sunburst, with the tortoise shell pick-guard.  The other thing I'd really like is an ebony, non-lined fretboard.  So it would have to be custom shop.
I really like moody sound of the J-Bass with flat-wounds and love the flexibility of sound with the simple control configuration.
I've been a good girl Santa!
4 – Carvin LB75W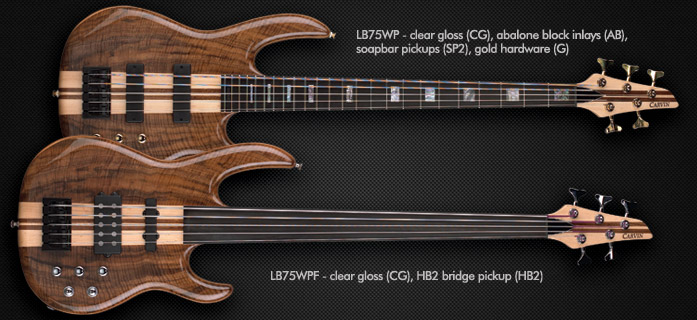 Over the past year I became aware of Carvin.  The first one I saw was a LB75W 5-string fretless at the now defunct NJAMS.  I went back a few weeks later with the hope that I could I could work out a good price, but the Grinch beat me to it.  There was nothing left in the store but some hooks and some wire.  Those banks should be on Santa's naughty list and hopefully getting a lump of coal in their stockings.
3  – Chapman Stick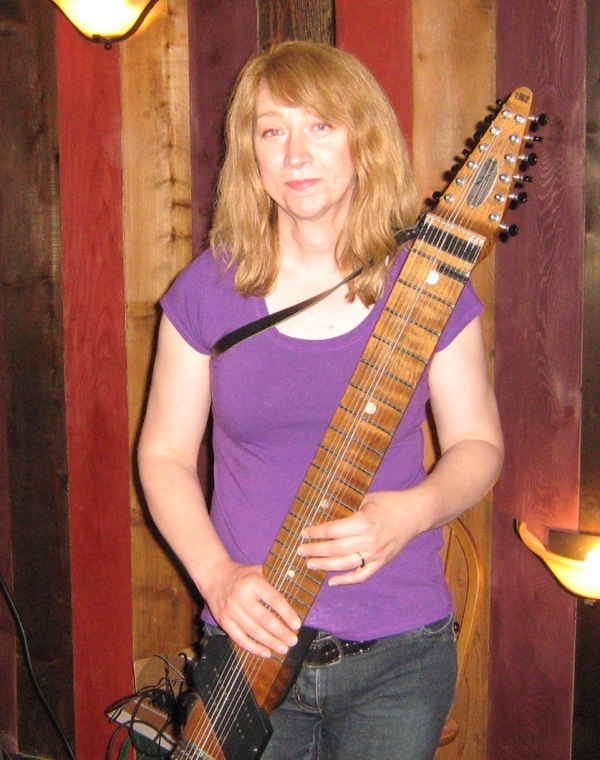 Ah, the elusive Chapman Stick.  It reminds me of buying real estate in North Vancouver.  It always seems priced just out of reach.  Santa Baby, you missed this one last year.  How about this year???  Next year I could be just as good!   Wish
2 – 1960's Rickenbacker 4001s

This bass has been on my Christmas list for as long as I can remember.  Way back when I was a young teen-aged rocker this was the bass that I wanted.  But ended up with a '75 Fender Precision.   Oh whoa is me.  Decades later I still want one, but now that bass is vintage and highly collectible.  Well Santa, it's cheaper than a yacht.
1 – Altansia Victoria
I know very little about Atlansia and even less about this model the Victoria.  But I think this is one of the most beautiful designs for a bass that I've ever seen.  I love the bird shaped F-hole and the scrolled horn.  Everything about it is unique.
A lot about this is mysterious.  The Altansia website is nothing short of bizarre.  It's hard to even know if this instrument is still in production.  There is a price list but I can's figure out if this model is included.  Even on TalkBass there is not a lot of information.
It could be a beast to play, but I just love the looks of it and would love to have this one to gig with.  It could become my signature bass.
What do you think Santa?  Hurry down the chimney tonight!
Terri