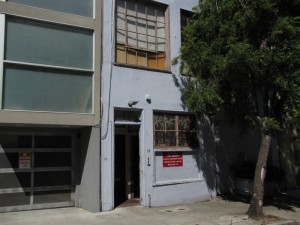 You have to be Real interested if you want to find Real Guitars.  This little shop is tucked away down a street that is really more of an alley in an old part of San Francisco.  Located at 15 Lafayette, about a mile east of the infamous Haight-Ashbury district, this shop, that at first appears as a thrift store for guitars, is actually a little jem of vintage musical equipment.
The store could really benefit from some fresh paint and a little, okay a lot, of cleaning.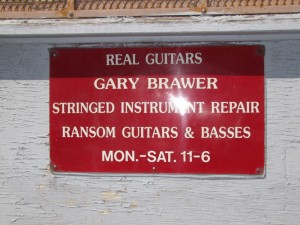 The floors are plain weathered concrete and the instruments are very dusty.  But beyond the dirt there's lots of interesting stuff to see.
The store itself, from what I can recon, is actually three businesses; Real Guitars, Gary Bower Stringed Instrument Repair and Ransom Guitars and Basses.  Ransom Guitars is one that I've researched for Bass-Aholic, but have never really been able to pin down a website for them.
There are two or three distinct sections of the store.  One for sales and one for repairs and almost a third that appears to be for Ransom to showcase their products.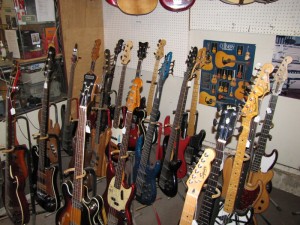 The instruments are not really laid out in the same way you'd normally see them in a music store.  Instead, they are hanging from wherever they can be hung from and many are just sitting in rows of guitar stands.  This makes it a bit of challenge to get to certain items.  I'm sure that a lot of basses and guitars get knocked over by those trying to reach for some in particular.
But this is one cool store.  It had a great cross section of many old brands you don't often see in stores.  Lots of Fenders like you'd expect, but also lots of the other vintage brands such as Electra and Ibanez that you don't see that much.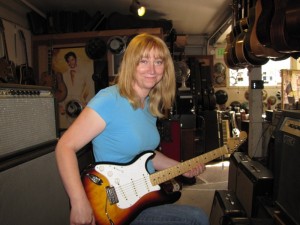 One interesting guitar was a Mexican Fender Stratocaster that had been owned by a guitar player that did a Jimi Hendrix tribute.  The Strat was left handed but strung upside-down.  A bit of a mind bender playing this guitar, but I guess that's Hendrix anyway.
Watch for more articles here on some of the instruments at Real Guitars.
"Stay Tuned!"
Terri