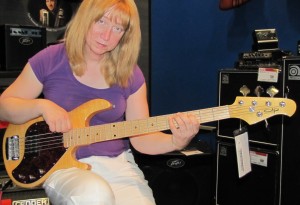 OLP stands for Officially Licensed Product.  They made inexpensive copies other brands instruments under license from the the other brand.  It appears the brand was retired in 2009.
This bass is a copy of a 5-string Music Man / Ernie Ball bass.
The price on this instrument says it all.  Used and for sale for $199.99 at Guitar Center in Las Vegas.
I try very hard to only say nice things, but I have to say that this bass was rough.  That is the fret wires were not finished and scraped the inside of my fingers and hand.  I didn't play it very long.
There's more information about OLP on Bass-Aholic.  Check it out.
Terri