The first thing you have to know about F Bass is where they are from.  Can you guess?  Shall I sing O'Canada??? (It's that song they play at hockey games.)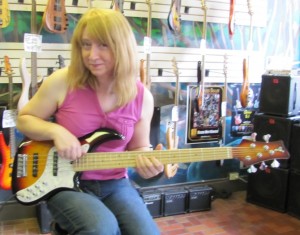 F Bass is Located in Hamilton Ontario, which is about 70 KM south west of Toronto.  The company is owned by George Furlanetto.  (Isn't F Bass a lot easier to say than Furlanetto?)  The company appears to employ about ten people.
When I was talking to the staff at Bass Northwest somebody mentioned F Bass.  My eye brows went up, "You've got an F Bass???".  For quite a while I've been admiring the F Bass AC5 .  I have to admit I was a tad disappointed when it wasn't the one they had.  Instead they handed me an VF5.
At first, when I saw the body shape and colour and the two Jazz bass pickups, my first thought was that it was another Fender Jazz bass wanna-be.  But after looking it over and playing it for a minute I changed direction.  This does borrow from the Jazz bass as stated on their website, "…captures the vibe, feel, and accurate tone reproduction of the classic '60s and '70s basses but features modern advantages…"
It does have some modern features.  One is a deeper cutaway that allows playing higher on the fretboard.  Another is a modern bridge that allows for quick string changes.  It has a low B string and, unlike the 5-string Fenders, they put three machine heads on top and two on the bottom of the head.  That's a big plus for my nit picky sense of aesthetics.
The thing I like best about this bass is its electronics configuration.  It works in either passive or active mode.  In passive mode, the three top controls work just like a Jazz bass: Neck Volume, Bridge Volume and Tone.  If you pull up on the tone knob it activates the preamp and the bottom three knobs become a 3-band EQ.  This has got to be the smartest way to do this.  It's brilliant!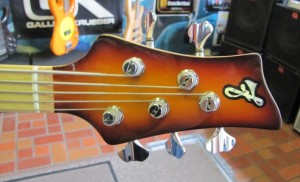 Bass Northwest says, "Here is a gorgeous looking and great sounding 5 string bass. This one is a Canadian handbuilt F Bass VF5 5 string model that features a lightweight highly resonant Ash body with a Sunburst high gloss finish and a White Pearloid pickguard. The 34" Slab Maple neck has a 21 fret Maple fingerboard with a sleek fast feel. The pickups are the passive F Bass Vintage Single Coil "J" type with 70's pickup placement and they are run through an F Bass active 3-band eq. system that also has tone defeat switch. The bass also has a passive tone control for the more classic vintage tones. Many players consider this "Jazz Bass" style 5 string bass to be one of the best available for tone versatility. This bass has a retail price of $3750.00, comes with an F Bass/Protec Contego deluxe travel case and is on sale for only…"
Overall I like this bass a lot.  It played well.  In passive mode it sounds like a J-Bass.  And, it had a nice feel.  At about $3300.00 its a bit rich for me.  I still like the AC5, but that retails for $6600.00, so I'll have to save some pop bottles first!
Stay Tuned,
Terri