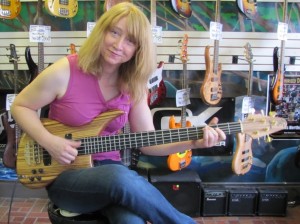 I've known about Alembic for almost as long as I've  known about Fender, Gibson or Rickenbacker.  The difference is that if the other three are Chevy, Ford and Chrysler, then Alembic is a Rolls Royce.
This is a brand that has specialized in high end basses for decades.  Their basses are played by some of the highest profile players around.
My favorite Alembics are the Signature Standard and Series I & II models.  I love the styling and detail to wood working and finishes.  They are truly works of art.  And you really do pay for that art.  The pricing for these models goes from $8000.00 to just over $21,000.00.  That's a fair amount of money and as Anita said, people are just "playing their money".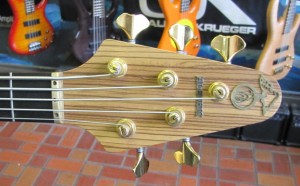 The bass I played was a more modest Epic 5-string.  This one is listed new on the Alembic website at $6300.00.  This one was used and for sale at Bass Northwest for $1899.00.  Which would suggest that, for this model at least, they don't hold their resale.
This bass was very nice.  It played well, looked good and sounded great.  But with everything else I played that day it didn't jump out at me.
Here's what Bass Northwest had to say about it…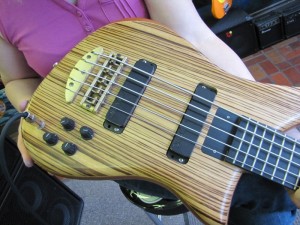 "Here is an excellent sounding and playing used 5 string bass. This one is a U.S. handbuilt Alembic Epic 5 string model built in 1996 that features a highly resonant Mahogany body with a gorgeous Zebrawood top and a Maple accent stripe. The 34" scale multi-laminate Maple inset neck has a 24 fret 2 octave Ebony fingerboard with a real solid sleek feel. The pickups are the active Alembic MXY56 low impedance "humbucking" type and they are run through an active Alembic 2-band eq. system. This bass is in great condition, comes with an Alembic deluxe hardcase and has a current new retail price of $6300.00. It is on sale used for only $1899.00″
If you have to have an Alembic and are on a budget, then this might be the way to go.  But, to quote Randy Jackson, "it was just okay for me dawg".
On a side note, there was apparently one of the pricier Alembics hidden in a secret room upstairs.  But I was apparently not allowed to see it unless I was seriously thinking about buying it.
Thanks to Bass Northwest for letting me play this cool bass!
Terri