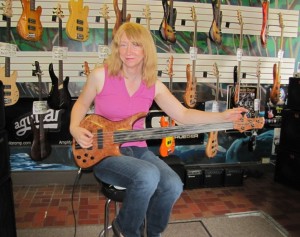 This bass is a Roscoe SKB-3005 5-string fretless bass.  This is huge jump up in price from the previous Dean bass article.  Going for around $3300.00.
The first thing you notice about this bass is its fingerboard.  It is made of something called black diamondwood.  I'm not clear as to what this is, but did find an article on Talkbass.  If anyone can shed some light please comment.
This fingerboard wood is only available on Roscoe's fretless models, so I'm presuming that it is quite hard.
The reason that it stands out is that it looks like any other, perhaps ebony, fingerboard, except that it looks like it needs a dusting.  Like its been hanging on the wall for a long time.
This bass plays and sounds great.  But unfortunately I wasn't wowed by it before I saw the price tag.  Maybe I'll change my mind at some later date, but I'm still thinking that for about half the money you can still get a great bass.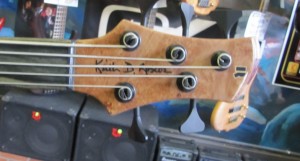 Here's what Bass Northwest website has to say about this bass: "Here is a great sounding and playing new fretless 5 string bass. This one is a U.S. handbuilt Roscoe SKB-3005 fretless model that was built by master craftsman Keith Roscoe. The bass features a highly resonant Mahogany body with an upgraded Burl Maple top and a gorgeous high gloss finish. The sleek 35" scale 2 octave Maple/Purpleheart bolt-on neck has a Black Diamondwood fretless fingerboard with a Graph-Tech Graphite nut and great growl. The pickups are the passive Bartolini "soapbar" type and they are run through an 18 volt Bartolini 3-band active eq. system that also has a push/pull midrange frequency switch. The bass has a "P-bass" kind of punch and warmth with incredible clarity. The "B" string is tight and well focused."
Check out the Roscoe website for more information on this bass.
Thanks to Bass Northwest for letting me checkout this bass!
Terri