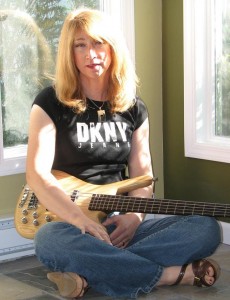 This bass is a 1992 Warwick Corvette Proline 5-string.  I bought this a few years ago from Long & McQuade.  I know little about its past, but there are a few unusual things about it.  First of all the body is ash which is not too common and Proline series seems to have been discontinued.
Shortly after I got this I was trying to understand what all the control knobs were for.  I found a PDF on the Warwick website that details the electronics for "every" Warwick bass.  My bass has five knobs.  There were no five knob electronics configurations in the manual.  After posting on the Warwick forum and talking to a few people there, I think that the bass is either custom shop or has been modified.  Looking at the electronics they have no appearance of being modified, so draw your own conclusions.  The other odd thing is that the bass's output is not nearly as loud as an active instrument normally is.  (Yes I changed the battery)
Anyway, all that aside.  This has been my fave for the last while.  If basses had odometers this would be very high mileage. I love having the 5th string and I love the sound of the instruments and flexibility of the sounds it can get.  Having said that my bandmates are always telling me to play my Fender.  Oh well!
Check out Warwick on Bass-Aholic.
Terri