Kramer Focus 420S Bass Guitar Review
Some time ago I got a call from a friend on my cel phone.  He's got a reputation of being a bargain hunter and he's furnished most of his house from items bought from thrift stores.  You might think his place looks like your grandma's cottage, but to the contrary, his house looks like a spread from Better Homes and Gardens.
So one day he calls from the Salvation Army and says, "There's a Kramer bass here for $80.00 do you want me to pick it up for you?"
My first question is, of course, "Does it have an aluminum neck?". I'm imagining finding a vintage Kramer bass worth maybe $1500.00 at the Sally Ann for $80.00.
He goes, "What?"
"The neck.  Instead of wood, does it look like it's made of metal.  And the headstock, is it split like a fork."
"No. I don't think so", he says. "It just looks like a P-Bass copy."
The conversation goes on for a bit and after a quick web search on my iPhone, I determine that's it's probably not that dream 8-string, aluminum neck Kramer XL-8 or XL-24, but instead a cheaper brand put out by Kramer, likely not from their heyday.
But what the heck.  I asked him to pick up the bass for me.
So this bass is not one of the original Kramer aluminum necked basses.  But what is a Focus?  And how old is this bass?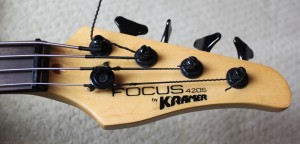 Kramer Guitars was founded in the late seventies by Dennis Berardi and Gary Kramer.  The first Kramer prototypes were showcased at Chicago NAMM in 1976.  Kramer's designs were different due to their use of aluminum necks.  They were however not completely unique as only a year or two earlier Kramer had been partnered with Travis Bean.  Travis Bean also made metal necked guitars.  The Bean guitars had solid metal necks where the Kramers had a metal frame with wood inserts.  This helped to reduce weight and also  gave the instruments a more natural, less machine like feel.
Both brands are recognizable by their aluminum headstocks.  With the Kramers have a tuning fork or "V" shaped 2+2 head.  The Travis Bean headstock is similar but the "V" shaped headstock is closed in to form the letter "T".
By the 1980's Kramer guitar and basses had become very popular.  And the by the mid 80's these basses were highly sough after and became the most popular basses of their era.
Unfortunately, by the late 80's labour, financial and legal problems all started to plague Kramer and by 1991 the original company ceased to exist. Today the Kramer brand is owned by Gibson, but as a cheaper brand with no signs of aluminum necks.
The Kramer Focus series was started in 1983 in Japan.  It's not clear if these instruments are built by Matsumoku, but the quality appears to be very good.
I'm unable to find any definitive information on my Focus 420S, but it's seems that it is Japanese and likely made during the 1980's.  As for pricing I've found this exact bass on eBay for $80.00 or more.  So I haven't really made any money on it
For this bass you can only say it's just another P-Bass copy, but it's not a poorly made imitation.  Doing side-by-side comparisons with a Mexican Fender Jazz and an American Jazz Deluxe, I go as far as to say this bass has a better sound overall.  With a warmer and tighter feel and sound.  It even compares quite well to my 1975 Fender Precision.
So with the addition of a Yorkville hard shell case, for under $200.00, I have a bass that I could use on stage, and except for that knockoff stigma, would be very usable and playable.
Not bad!
Terri
References:
Vintage Kramer
Kramer Wiki
Bass-Aholic