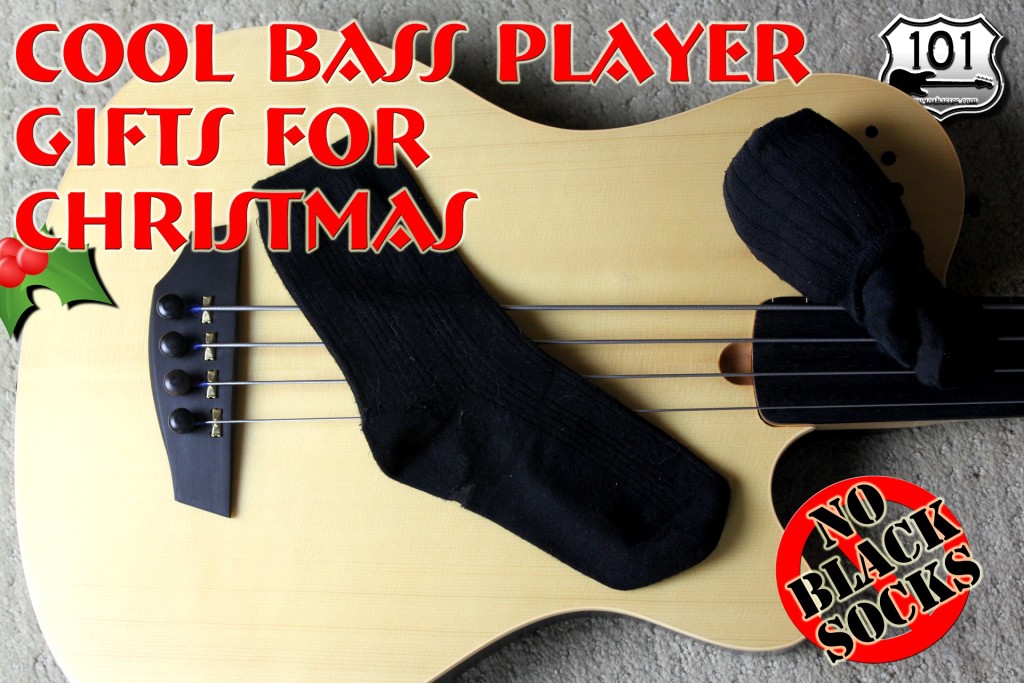 Remember a few years ago the black socks ads that were running on television? They made fun of the fact that people always give black socks to people at Christmas. The funny thing is that every year I got black socks from my in-laws. But that stopped that year. I guess they saw the ads too. Now I have to buy my own black socks!
As Christmas approaches we all have  loved ones on our list that are hoping to find that perfect gift under the tree. If that loved one is a bass player you might want to check out my suggestion list for bass player gifts.  Most items are offered through Amazon, so you know that quality and satisfaction are guaranteed.
---
 Snark SN-2 All Instrument Clip-On Chromatic Tuner

From beginner to seasoned professional, keeping your instrument in tune is essential.
For the novice, these tuners are simple to use. You just clip it to the basses headstock and turn it on. Vibrations from the instrument travel to the tuner and the note played is displayed on the the tuner's large bright display. You don't need to have the bass plugged in. Old folks like me can even read it without their reading glasses. In fact, the display is so good I can read other musicians tuners across a small stage.
For pro musicians these are much easier to use than plug in tuners. On stage you simply turn down your bass. No need to go to your amp or pedal board to activate the tuner. The tuner works well with guitars and basses, including that low B on 5-string and 6-string basses. (I find I get a quicker reading by hitting the twelfth fret harmonic.)
---
 Dunlop 473P1.5 Tri Stubby, Red, 1.50mm, 6/Player's Pack

Many bass players don't play with a pick, but many do. Even though they won't admit it. That said, some of the biggest bassists are pick players. This includes Carol Kaye, Paul McCartney and Chris Squire.
For pick playing players like me you need a pick that is large and heavy. I've always played with the large triangle picks and picks that are at least 1.0mm thick. The past few years I use these Dunlop picks exclusively for bass. The center grip makes sure they don't slip or turn while you're playing and because they are thick and hard they just don't bend.
---
 The Official Vintage Guitar Magazine Price Guide 2016

If your favorite bass player is a gear geek with GAS like me they love the . I've written about this book before and it's just one of those books you keep going back to. There's a new issue every year and serious player will want a new one every year.
Although the book is primarily a guitar guide, it does have a large bass section. When researching a particular brand or manufacturer you may need to refer to the guitar section.
Hours of fun and a great gift for bass players!
---
 Gruhn's Guide To Vintage Guitars Updated and Revised Third Edition (Book)

The Amazon description of this book says it all… "Gruhn's Guide to Vintage Guitars is the most extensive and detailed list of specifications ever published for identifying, dating, and establishing the authenticity of an instrument. This new edition is enlarged and updated, making it once again the essential guide enabling collectors, dealers, players, and fans to determine the authenticity, rarity, and relative value of vintage acoustic and electric guitars, basses, mandolins, banjos, and amps. Gruhn's Guide's thoroughness, detail, and clear organization have made it without peer, the must-have tool for discerning an instrument's manufacturer, model, and date-and most importantly, whether it is in original condition. "You will not find a better guide, nor one that is so easy to use." Vintage Guitar magazine"
---
 Hercules GS412B A/G Guitar Stand

My son would always keep his instruments in their cases. I would always tell him, "Put them out on stands. You'll appreciate seeing them, they won't get forgotten and you'll play them more."
Having a good stand is important and helps prevent damage. I have had a lot of stands, but the stands from Hercules are by far my favorite. They are robust and easy to fold up for storage. In particular, I like this hanging stand because it works better with non-symetrical basses. (Such as the Fender Jazz Bass mentioned here) The bass hangs from the headstock and locks in to place making it hard to be knocked out of the stand.
---
 The Fender Bass: An Illustrated History

I have owned this awesome book for a number of years now.
This is a great reference book on Fender Basses going back to the original 1951 Precision Bass.
Lots of photos, tons of history and a perfect gift for bass players on your list.
---
 Levy's Leathers MSS1-BLK Veg Tan Leather Guitar Strap,Black

Basses are heavier than guitars. No question about it. And having to stand with a bass for a set or two with the strap digging into your shoulder is no fun. With a good quality bass strap the problem is solved. I like the Levy 2 1/2 inch leather straps for bass. They're sturdy, they're padded and they're comfortable.
They also come in a four inch strap version and have lots of color choices. They are highly recommended and your favorite bass players will love it. (And you for thinking of it.)
---
 Schaller Guitar Strap Locks and Buttons (Pair) Nickel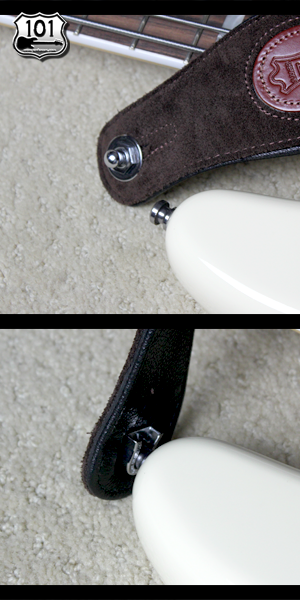 All basses come with two strap buttons to attach the strap to. Straps simply button over the strap buttons. These work well but sometimes the strap can pop off. The result is damage to the instrument and possibly even injury. Strap locks make it extremely difficult for this to happen.
These Schaller Strap locks are my favorite. I have them on a number of my basses and should probably have them on all my basses.
To install you simply unscrew the existing strap button and screw in the strap lock receiver. Then use a wrench to bolt the adapter to the bass strap. (Maybe like the Levy one above)
To put the strap on the instrument you pull the latch knob and attach the strap. It's easy, secure and safe.
---
 Fender Standard Jazz Bass®, Lake Placid Blue, Rosewood Fretboard

Fender Standard Jazz Bass®, Lake Placid Blue, Rosewood Fretboard
I had to carefully consider if I should add a bass to this list. Mostly because for me, buying an instrument is like buying clothing. There are so many styles and colors and fits. How could I pick something that someone else would be happy with?
But this bass might be an exception to all that.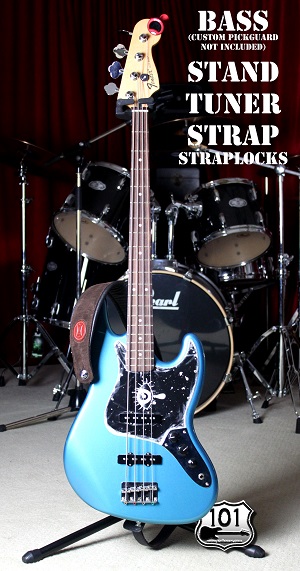 Normally I would suggest that when buying a bass you need to have it in your hands. Feel the fit and the emotion and most importantly does it sound good? But a novice bass player won't have that instinct yet, which makes this instrument the perfect gift for a new bass player.
The Fender Jazz Bass, in my opinion is probably the best bet if you want to buy a bass for almost anyone. The Mexican built Jazz Basses are less expensive than that American ones, but are still fine basses.
Here's my list of reasons why you want to buy this bass for budding bass players:
Fender basses are by far the most played basses by professionals ever.
The Fender Jazz Bass is probably the second most popular bass ever made (Next to the Fender Precision).
Fender basses are the most copied basses ever.
Fender basses are easy to setup and adjust.
Fender basses are easily modified. (Most companies that make OEM parts have Fender replacement parts.)
Fender basses are easily upgraded. (Many companies product high end upgrade parts that are compatible with Fender basses)
The Mexican produced Fenders are a more affordable versions of the American built basses are arguably very similar in quality. (Many pro players will take their Mexican Fenders on the road with them.)
The Jazz bass has a narrower neck than the Precision bass. (This will make it easier for kids to play and faster for the pros. Note, however, that this bass might be too big for smaller children.)
The Fender brand name is ubiquitous. You never need to be ashamed of being seen playing them as you might be with budget brands.
If you are thinking you want buy a bass for someone as a gift this is by far, IMO, your safest bet.
That said, if you order a bass online you should be prepared to do some level of setup yourself. Or, have a professional luthier do it for you.
Please see a previous article I did on the MIM Fender Jazz Bass a few years ago.
---
And finally, here are a few more bass player gift ideas.
May your holidays be filled with music!  Terri